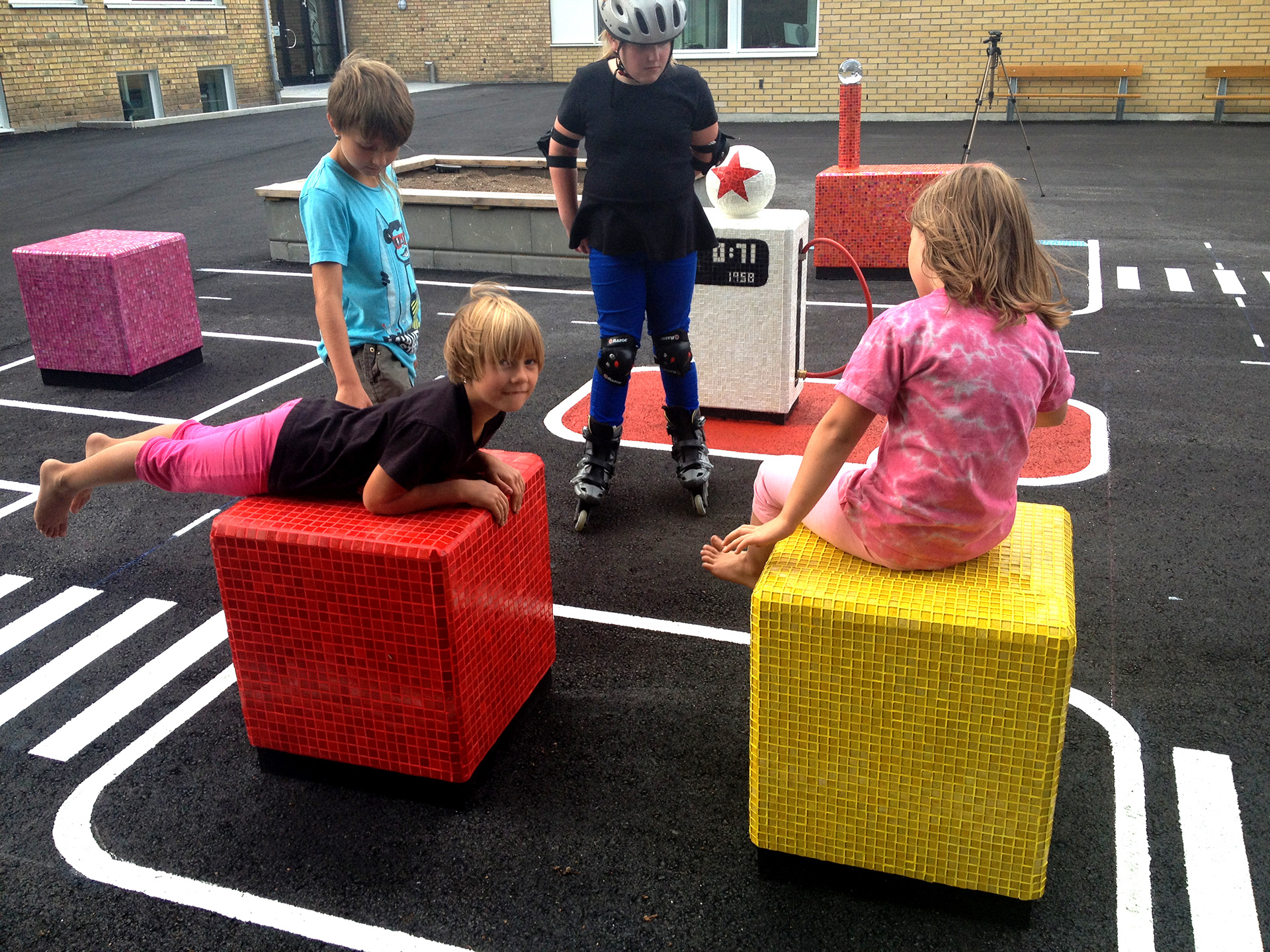 Miniatyrstaden Lyckebo. De här barnen visade sig leka bland skulpturerna dagen efter jag hade färdigställt dem. Jag hade åkt dit för att fotografera verket. Gissa om jag blev överraskad och glad att se barnen lekandes där redan, och på sitt sommarlov!
English
 I finnished this sculpture group of "Miniture city of Lyckebo" a hot summer night in july and was going to photograp the day after. When I came there those children turned up to play! They were at the this school on their summer brake, I was supprised and very happy to see them using my work for their play already, it had just been finnished!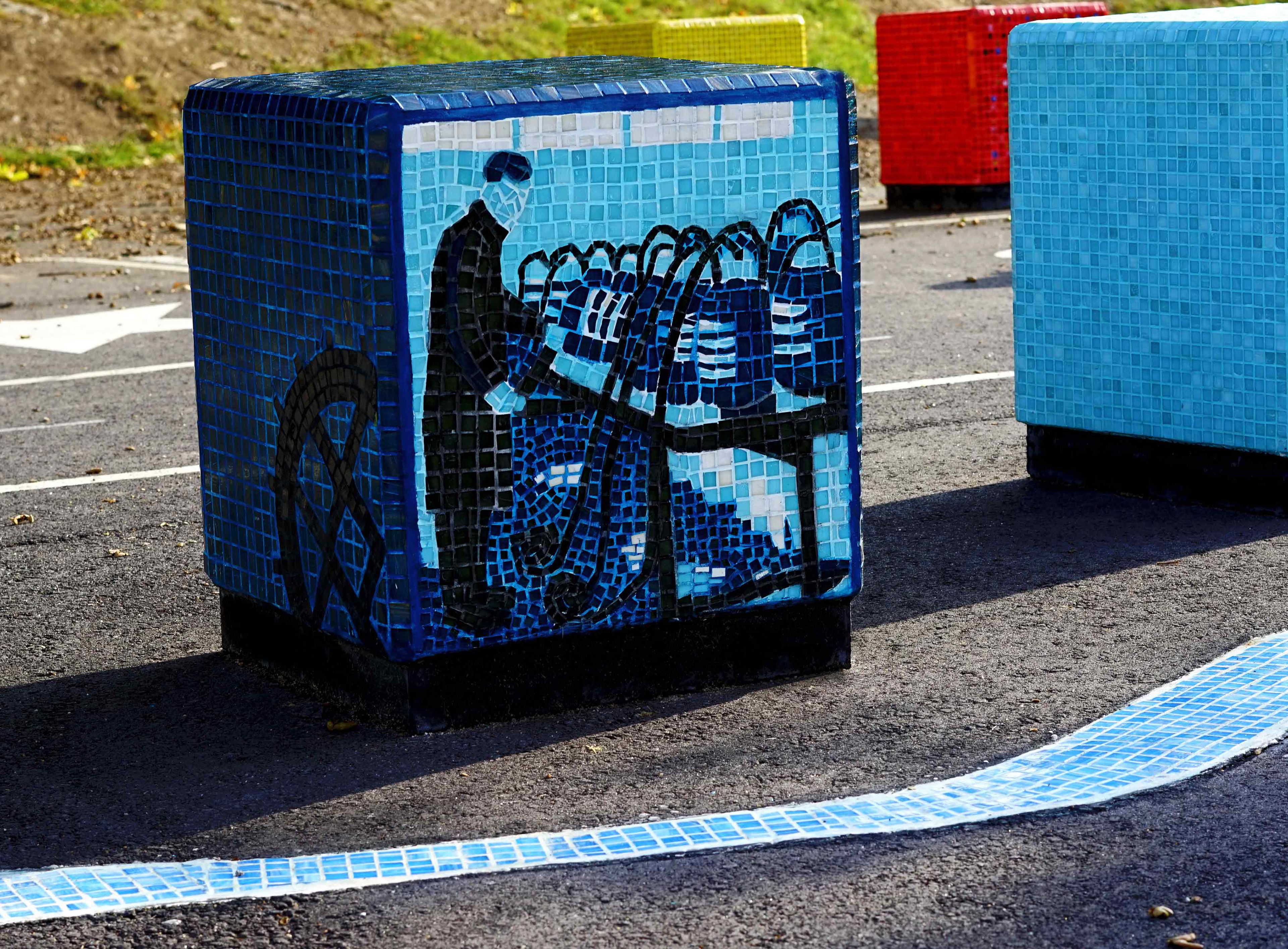 Här är en bild, blå mosaik med en man som granskar pumpar, från en av de största näringarna som har funnits och finns i Lindås, förr hette de Flygt och nu Water & Wastewater. De har uppfunnit en slags pump och har världspatent på detta. Framför den blå kuben anar vi en mosaikslinga i marken som är en symbol för Lyckebyån. Ån är anledningen till att alla verksamheter och bebbygelser i Lindås ligger där de gör. Det var från Lyckebyån alla fabriker etc. fick sin energi/ström från början. Därav namnet på miniatyrstaden "Lyckebo"
English
This blue mosaic picture comes from an very importent pump works here in Lindås called Flygt or nowdays Water & Wastewater. In front of it there is a light blue mosaic loop in the ground that symbolise the small river "Lyckebyån" who gave all the industries and works energy back in the old days. The river is the reson why industries, homes and other works are placed were they are in Lindås. The "Miniture city Lyckebo" is named after the river.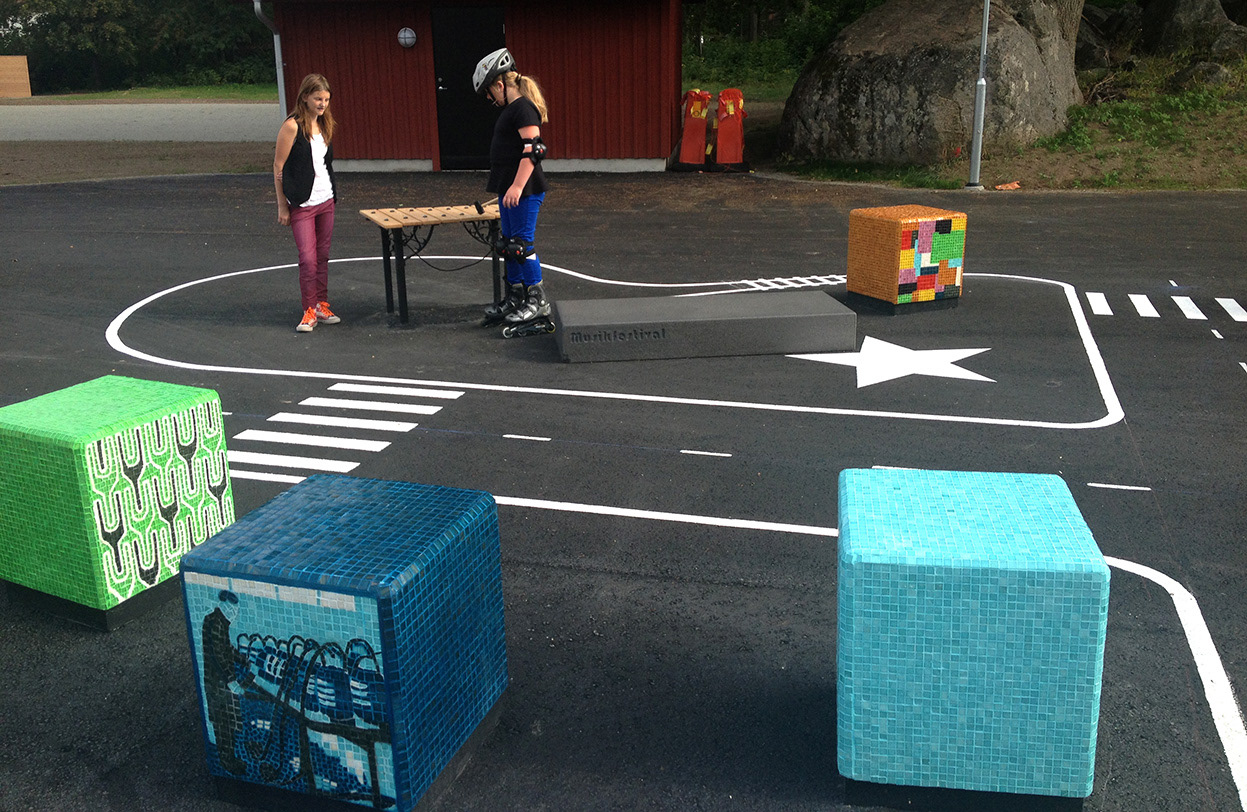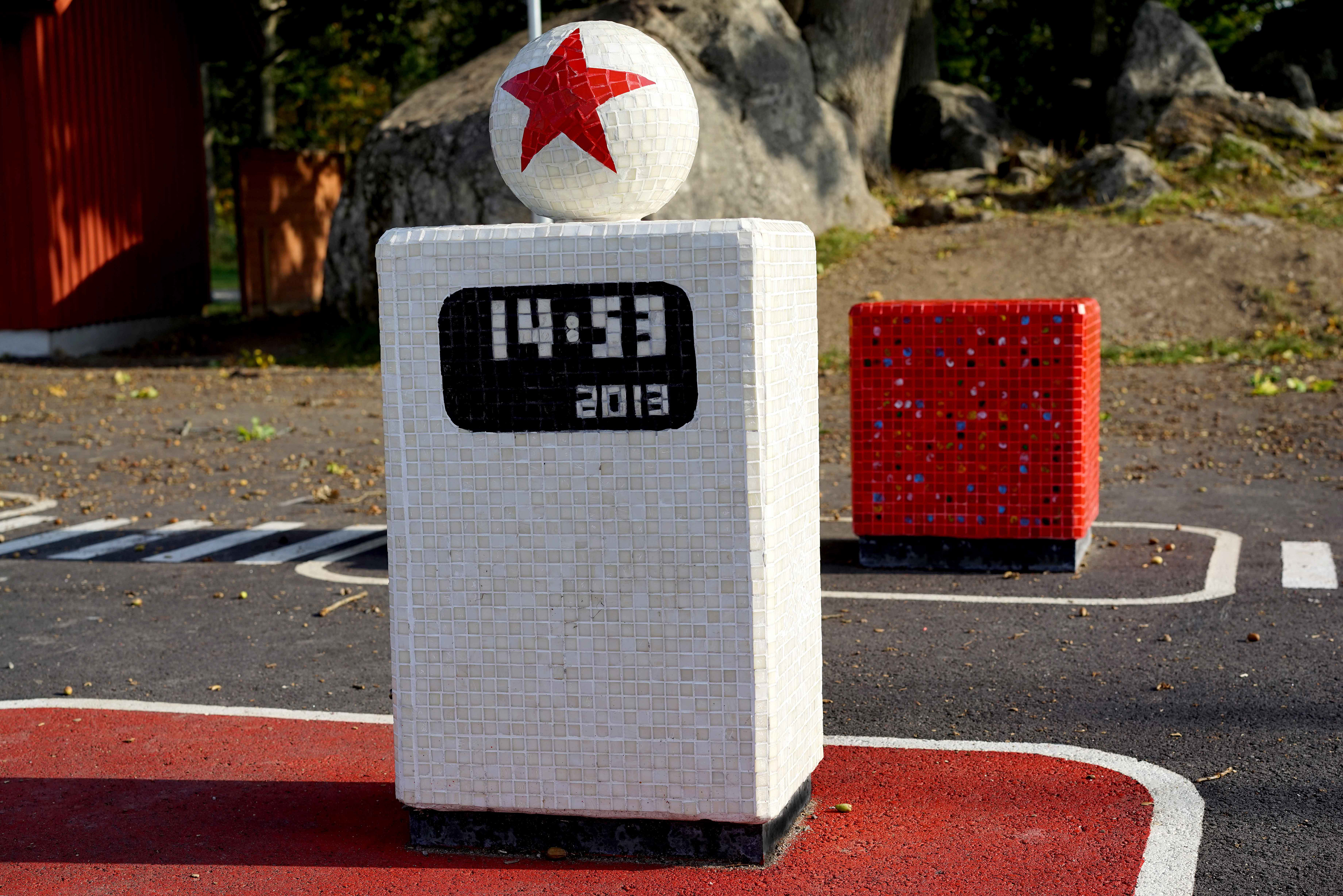 Bilar har alltid varit populära i Lindås och förr fanns här många bensinstationer. Bensinpumpen jag har byggt har på ena sidan bensinpriset 1958, när skolan byggdes och på andra sidan bensinpriset 2013 när skolan byggdes ut.
Cars have alwas been a big interest in this region, so there was a lot of gas staions here in the old days. This one I made, shows the gas price when the school was built in 1958 on one side and on the other when it was rebuilt 2013.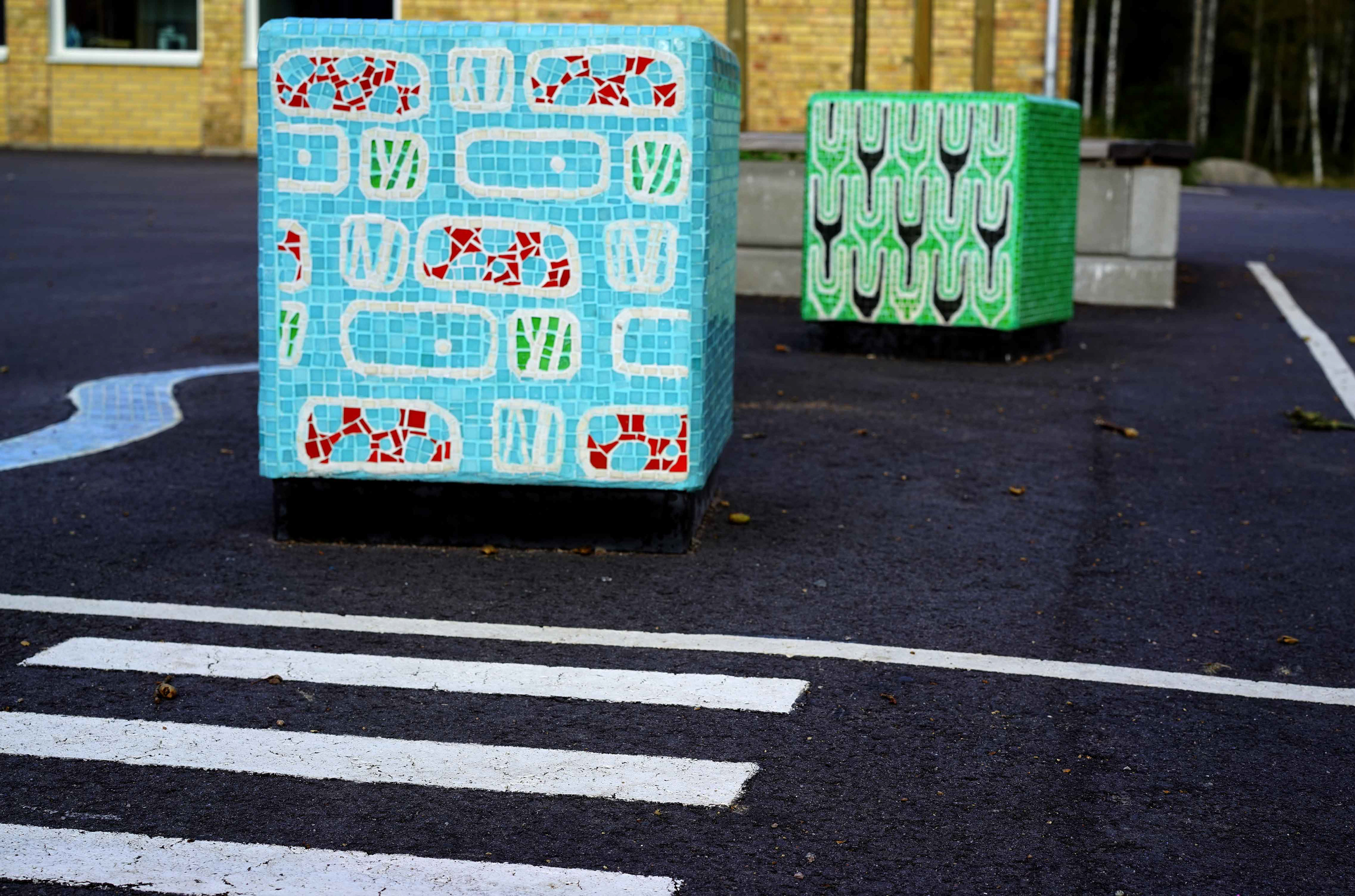 Den blå mosaikkuben har ett mönster som härrör till mat och symboliserar den dåtida koperativa mataffären "Fram" i Lindås. Den gröna mosaikkuben med kaktusmönstret är symbol för den gamla tapetfabriken som fanns i Lindås. Tyvärr fann jag inga tapetmönster från Tapetfabriken i Lindås, men det fanns även en fabrik i Emmaboda. Mönstret "Kaktus" är formgivet av Birgitta Dahlström och är ett tapetmönster för Emmaboda tapetfabrik som var det första mönster som Birgitta Dahlström gjorde då hon fortfarande gick på Hdk (Högskolan för Design & Konsthantverk i Göteborg, som hette något annat på den tiden). Det turkosa mönstret är det första mönstret jag gjorde när jag gick på Hdk. Mönstret är inspirerat av tomater och andra grönsaker.
English
The cube with blue mosaic pattern is the old coperative food store called "Fram" and the cube with green pattern is from the wallpaper works. The pattern is called "Kaktus" (Cactus) and was the first pattern of designer Birgitta Dahlström when she still was at school in Gothenburg. The pattern on the turquoise cube is my first pattern at the same school named "Tomatos and other veggitables".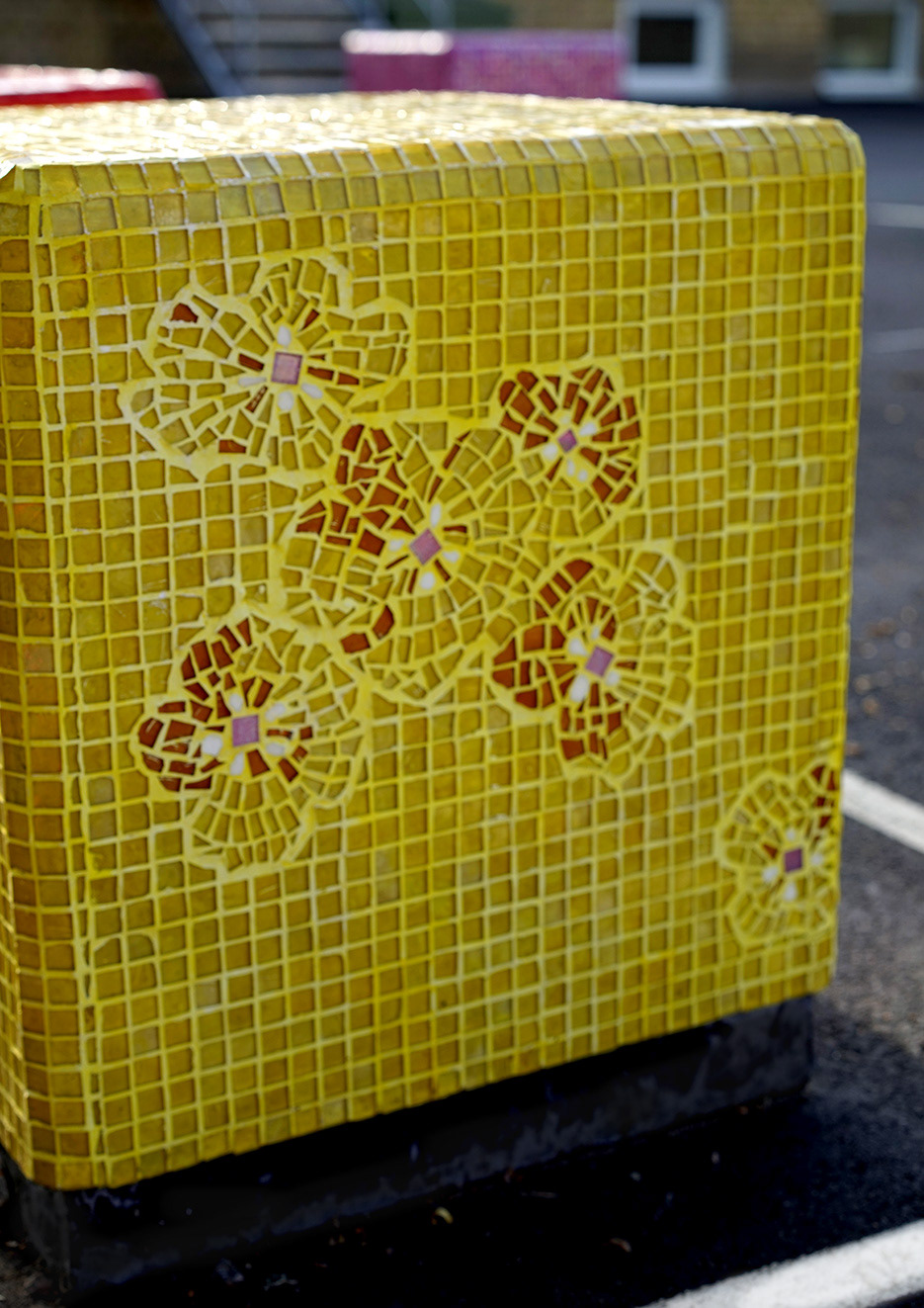 Gula skolan. En av de första lärarnas fruar som arbetade i Lindås anlade en skolträdgård där de undervisade barnen om växter och blommor. Den gula skolan finns fortfarande kvar och ligger bredvid den nya från 1958/2013 och har under några år fungerat som ortens bibliotek.
Yellow school. One of the teachers whife from old days made a school garden outside the building. And from there they could teach the children about plants and flowers. The yellow school is still there, beside this new school from 1958/2013.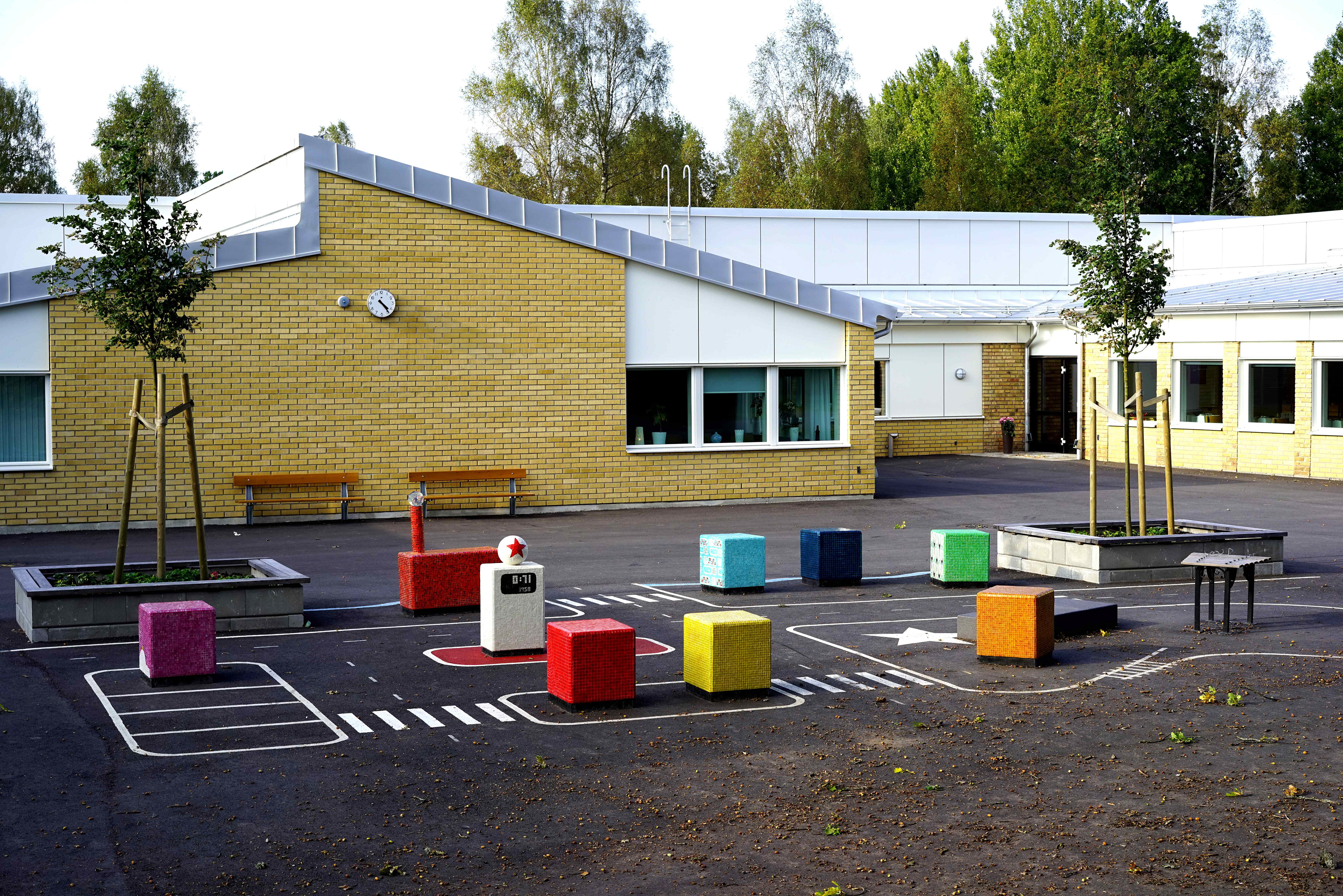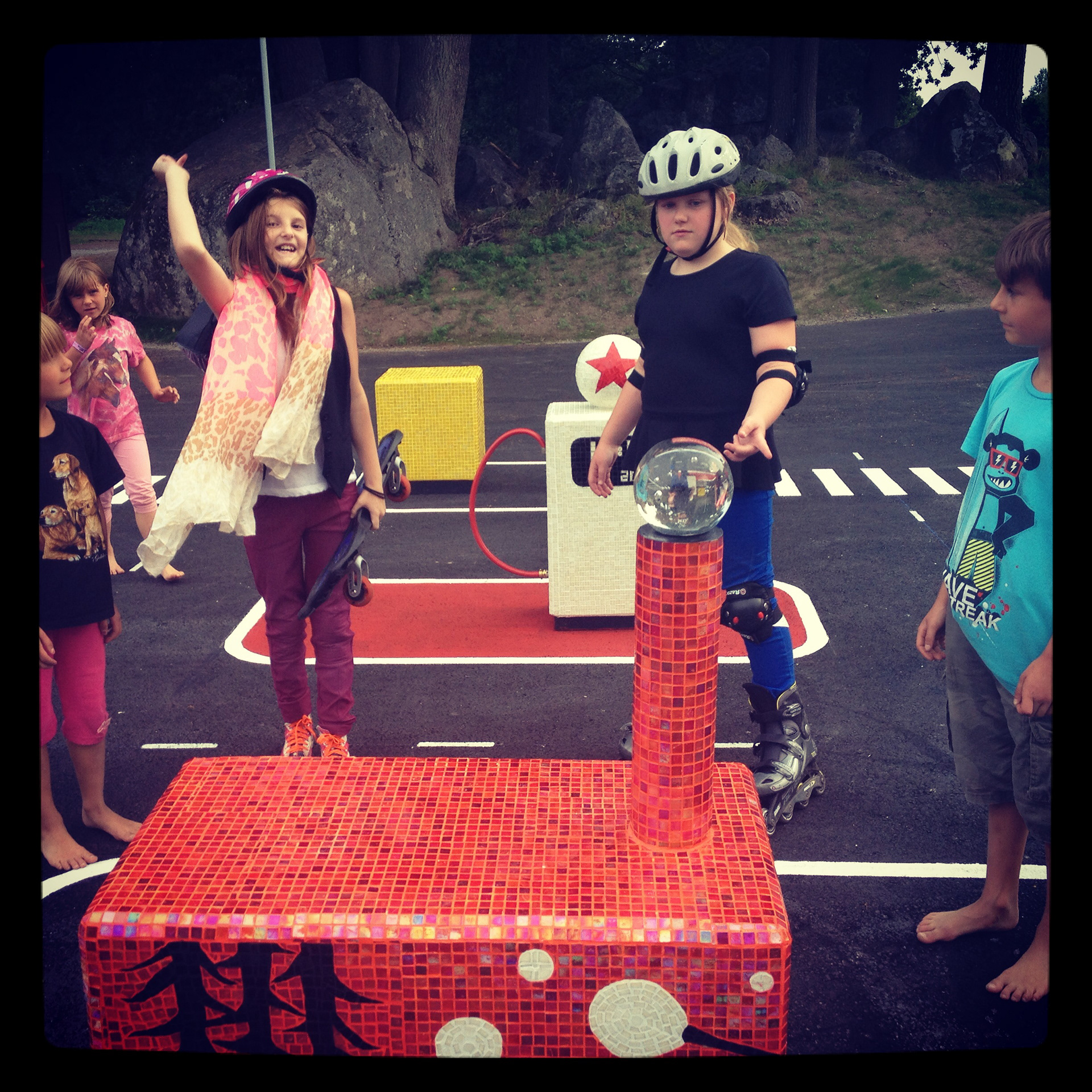 I förgrunden ser vi ett glasbruk som också betytt mycket för näringsverksamheten i trakten, men även för mig personligen.
English
Here is a minitarue Glass works that have been an importent production works for this area, and also importent for me personally.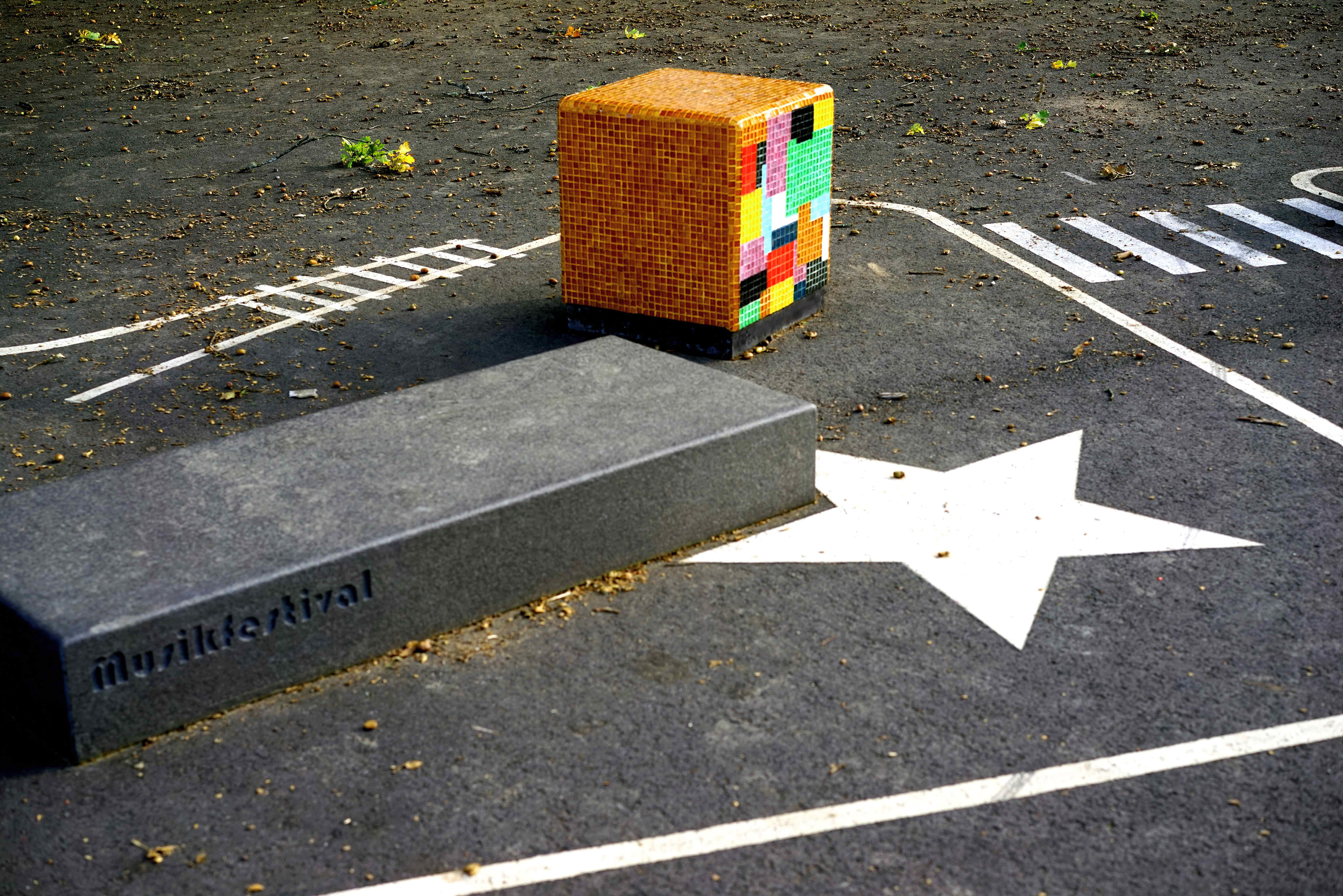 Emmaboda/Lindås är känt för sitt musikliv, i nutiden är det välkänt för sin Emmaboda festival. Granitstenen är en symbol för stenföretaget Emmaboda Granit men också en fungerande scen i miniatyrstaden. Den färgglada kuben(färgfält som möts) representerar tågstationen som gjorde det möjligt för både produkter och människor att transporteras.
English
Emmaboda/Lindås is very known for there music life and nowdays they have a famous festival"Emmaboda festivalen". The granite stone is also representing the stone works from this area and at the same time it's an performance stage in the minitaure city. The colorful mosaic cube(color fields meeting each other) is a symbol for the trainstation that made it possible for both trasportasion of products and people.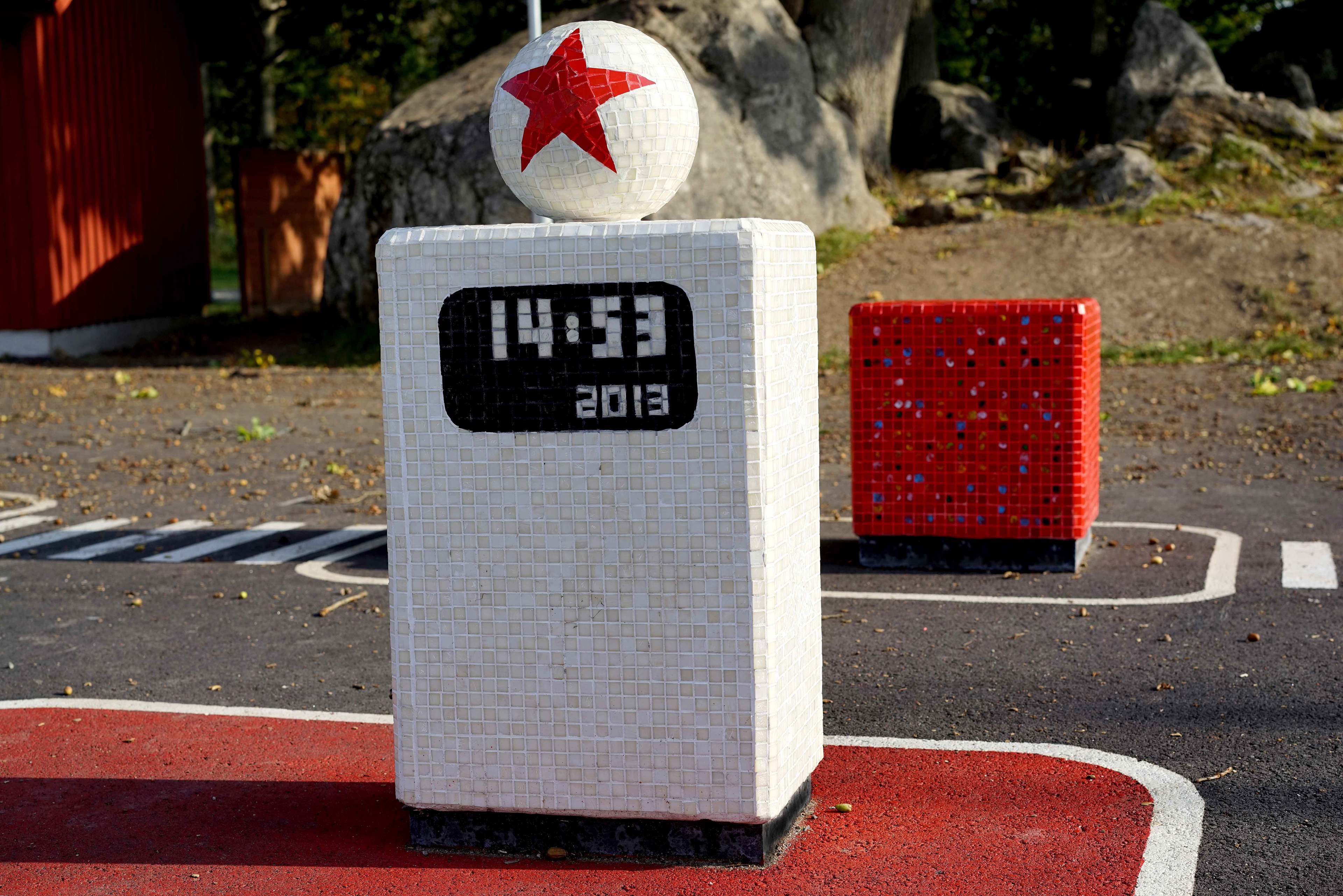 I bakgrunden syns röda skolan som var Lindås första skola. Här har den fått ett fingeravtryck från alla elever och lärare på skolan under den jag skapade Miniatyrstaden. Se bilden nedan där jag sätter mosaiken på kuben. 142 fingeravtryck!
English
In the background you can see the red school, the first school in Lindås. Here it has got  fingerprints from all students and teachers at the school the time a made it. 142 fingerprints! Picture is from when it's built!