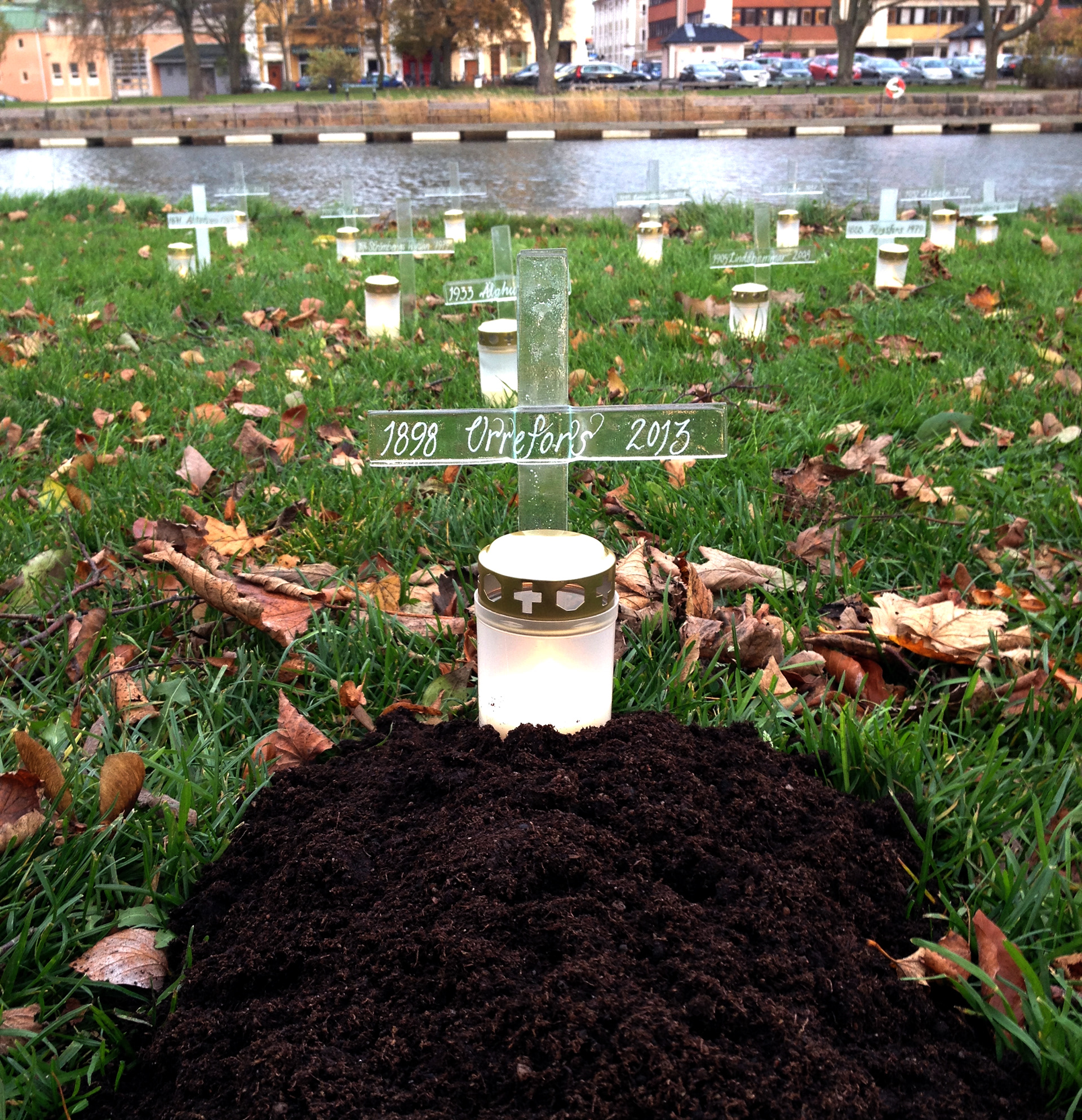 Glaskyrkogårdsprojektet

startade när ännu ett glasbruk lagts ner, denna gång ett av de största och äldsta, Orrefors glasbruk. Jag kollade upp hur många glasbruk som lagts ner i Småland mellan 1900-talet fram till dagens datum och gjorde ett glaskors för varje bruk. Skrev när det startades och när det lades ner. Jag satte upp Glaskyrkogården över en dag och kväll, nära biblioteket och kanalen i Kalmar stad. Det var en fin plats att ha dem. Jag fick många spontana kommentarer av förbipasserande människor, många sa
"– Oj, är det så många glasbruk som stängts ner bara här i Småland!"


Som jag ser det så är det väldigt sorgligt men ändå spännande. Glasbrukseran går mot sitt slut och nya konstellationer ha möjlighet att utvecklas. Så detta projekt är ett "Hej då" och ett "Tack för allt!" till Glasbruken och ett "Välkommen allt det nya!"


English
"The Glass Graveyard project" came up when when one more glassworks closed down. This time, one of the largest glassworkshere in Sweden "Orrefors" .
I worked out how many glass works closed down between 1900s and 2000s in Småland and made a graveyard with them. It was shown around Halloween or "Alla helgonas afton" as it's named in swedish. I put up the graveyard over a day and evening, nerby the library  and channel in Kalmar city. It was a beutiful place to have them. I got  a lot of respons from people passing by. Their reaction was often "- Oh, is there soo many glassworks that closed down only here in Småland! "

But as I see it, it's sad but also exciting. The glassworks era have come to it's end and now there are new things happening! So this is my way to say " Good bye and thank you for everything old glass works! And welcome all new! "